Home
|
Wheelchair Van - Full Size
|
Vehicle Modifier
|
Wheelchair Van - Minivan Conversions
|
Wheelchair Transport Options
| Hand Controls
|
Driving Evaluator
|
Wheelchair Safety
|
Handicapped Lifts
|
Riding in a Wheelchair
|
High Tech Electronic Driving Controls
|
Secondary Controls
|
Elderly Driving
| Definitions |
Frequently Asked Questions
| Air bags
Wheelchair Handicapped Lifts in Conversion Vans for the Physically Disabled, Paraplegics, and Quadriplegics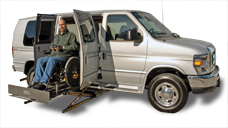 Custom Search
Full Size Conversion Van Wheelchair Handicapped Lifts
There are lots of different wheel chair handicap lift models designed with all sorts of weight ratings, vehicle door dimensions, styles, and platform sizes. The two largest wheelchair handicap lift manufacturers are Braun and VMI. Note: VMI is the exclusive seller of Ricon wheelchair lifts. I don't know if the two companies are under the same parent company or are in fact independent companies. For our discussion it doesn't really matter. When you think of Ricon wheel chair handicapped lifts, you can think of VMI.
Your vehicle modifier can help you determine which wheelchair handicap lift is right for you, your wheelchair, and your vehicle. If youíre an independent driver then youíll also need an automatic door opener to be integrated with your wheelchair lift. Otherwise an attendant or family member can manually open the door without the additional expense. Again, Braun and VMI supply these kits but you wonít see much if any information on automatic door openers on the internet. The electronics for the wheelchair lift can be coordinated with the door opener so that deploying the wheel chair handicap lift causes the doors to automatically open. Stowing the wheelchair lift automatically causes the doors to shut.
Controls for wheelchair handicapped lifts
You should be able to operate the wheel chair handicap lift from multiple points using multiple controllers. If your wheelchair van has automatic door controls then the doors should automatically operate whenever the wheelchair handicap lift is operated. If you're a driver, then you'll likely need a control module located in the driver compartment or integrated into the secondary control console (EMC, dSI, or Crescent) that you can access. You can also operate the wheelchair handicap lift locally at the lift itself or using a hand pendant attached with a cable. Most people utilize a wireless remote control when entering and exiting the wheel chair van. Lastly, you can also obtain a magnetic remote control. This is a little different than the wireless remote control. A magnetic sensor is located in the right rear taillight. The magnetic remote is held up close to the rear sensor for the wheelchair handicap lift to operate a function. The magnetic remote must be held up to the sensor throughout the entire operation, for instance during the entire wheelchair handicap lift deploy sequence. The advantage is that the user doesn't need to press the remote buttons to operate the wheelchair handicap lift functions and the magnetic controller can be used as a backup to the wireless remote, especially if the batteries die unexpectedly. The disadvantage is that you have to hold up the remote for what seems like a long time whereas with a wireless remote, you press the button once, release, and the operation occurs.
Cargo Carrying Capacity of Wheelchair Handicapped Lifts
Adding a wheel chair handicap lift to a van is a vehicle adaptation that actually requires more than just good mechanical skill. A wheelchair handicap lift is a heavy weight addition to the wheelchair van. Typically the person who requires a full size wheelchair van with platform lift will also need a lowered floor conversion, raised roof, raised doors, and is generally a larger person riding in a large, heavier chair. Full size wheelchair van platform lift installations require that you really need to pay close attention to your vanís cargo carrying capacity. wheel chair handicap lifts weigh a lot and some full size wheelchair vans do not have the cargo carrying capacity to support a wheelchair handicap lift. Clients who usually need a full size wheelchair van tend to be heavier with heavier wheelchairs so it can be a compounding effect. You should ask your vehicle modifier to show you the vanís anticipated post modification cargo carrying capacity PRIOR to authorizing the work. Actually the best time to go through the vanís cargo carrying capacity calculation is BEFORE you even purchase the full size wheelchair van. Talk to your local modifier about which wheel chair vans you are considering purchasing if they have the necessary load carrying capacity. A wheelchair vanís cargo carrying capacity can be very specific to how it is manufactured so donít be fooled into thinking that all vans of a particular model are the same.
For example, Ford put out a memo for the van modification industry that Ford E-series full size vans built prior to 2006 were not suitable for wheelchair van conversions as they did not have sufficient GVWR and load carrying capacity. There are actually many different versions of the Ford E-series van even within the same model and each has their own GVWR, curb weight, and cargo carrying capacity. I'm not suggesting that 2006 and prior E-series Ford vans are candidates for lowered floor conversions, but you will find some vans of that era do have sufficient load carrying capacity for a wheel chair handicap lift modification. You will also find vans of that era with insufficient load carrying capacity. You will also find vans that you are interested in buying that have entertainment conversions that have significantly added to the vehicle's curb weight and have reduced the van's cargo carrying capacity. If you do decide that you want to pursue a Ford van of that era, you have really need to be careful or you could unnecessarily waste money or do something unsafe. The load carrying capacity analysis will involve taking the vehicleís GVWR (gross vehicle weight rating) as determined by the manufacturer, subtracting the vehicleís curb weight (unloaded vehicle weight with full fluids so you'll need to take the van to be weighed on a truck scale) and then adding or subtracting weight for the components (wheelchair handicap lift, raised roof, etc.) which are added or removed (weight of removed seats for example) from the van during the modification process. This will give you your wheelchair vanís anticipated cargo carrying capacity after the modification. From that you need to ensure you have enough capacity for yourself, your wheelchair, your friends and family, groceries, pets, recreational equipment, etc. This is not the time to be bashful about your weight and your family memberís weight. The reason this is so important is your safety, the safety of your passengers, and the safety of others riding in their own cars on the highways can all be affected by you driving an overloaded vehicle. There are several potential safety issues caused by an overloaded vehicle that affect your ability to adequately brake, handle, steer, and control your vehicle. One aspect of the cargo carrying capacity calculation that confuses people and modifiers is that NHTSA requires that the cargo carrying capacity be sufficient to handle the weight of the designed passenger and cargo load. In lieu of actual client information, 150lbs per seating position needs to be assumed. If you have a seat (whether or not it has a seatbelt), then you have to account for at least 150lbs of passenger load. The part that confuses people is that even if you do not plan to ever carry people in those seats and you fully intend for them to be empty, you still must assume at least 150lbs for each seated position. This is a NHTSA design requirement for which there is no FMVSS exemption. This requirement is in place to maintain safe vehicles on the road in the event that you sell the wheelchair van at a later point. The new owner wouldn't necessarily follow your assumption of keeping seats empty. They may fully load the wheel chair van based on false information and put themselves, their passengers, and others riding on the roads at risk. This requirement to assume full passenger loading is what will generally cause some vans to not be suitable for wheelchair handicap lift modifications. Also don't overlook the cargo load in performing your cargo carrying capacity calculation. At a minimum you should anticipate 100-200lbs of cargo load. There is no firm number that NHTSA requires for cargo load so there might be a tendency to fudge this number low but it is not in your best interest to lowball it. Remember this is about not only your safety but the safety of you passengers and anyone else on the road. NMEDA places such an emphasis on ensuring that a modified vehicle has sufficient cargo carrying capacity that it requires its members to perform a four corner weight analysis whenever 220lbs or more is added during the vehicle modification. Because some wheel chair vans do not have sufficient cargo carrying load to support the minimum passenger load with the van's seating, sometimes a van's seats and associated seatbelts are removed to gain back some cargo load capacity. Prior to doing this, the wheelchair handicap lift installer should have discussed this with you, hopefully in the process of verifying the van's cargo carrying capacity. The wheelchair van's final seating capacity needs to meet your anticipated needs, otherwise you should be looking for another wheelchair van. After the modifications are performed, the wheelchair van should be weighed again to obtain the van's new curb weight. This amount is subtracted from the van's GVWR to obtain the new cargo carrying capacity of the van. Again, you modified wheel chair van should have sufficient cargo carrying capacity.
Note: There is only one wheelchair handicap lift designed for the minivan called the Braun Mini VanGater. Itís no longer listed on Braunís website but it is still available. Because it is designed to work in non drop floor minivans (which would have a ramp and not need a wheelchair handicap lift), it is designed for children and small statured adults. In other words, people who are not very tall while seated in a wheelchair and do not require a drop floor minivan conversion for adequate head clearance. Since the the Mini VanGater first came out, drop floor conversion minivans have become a much larger percentage of the conversion market and have reduced the popularity of the product.
Safety Interlocks Associated with Wheelchair Handicapped Lifts FMVSS 403 and 404
FMVSS 403/404 is a two prong approach to making all wheel chair handicap lifts compliant with new safety requirements.
FMVSS 403
FMVSS 403 is the standard that "establishes requirements for wheelchair handicap lifts that are designed to carry passengers who rely on wheelchairs, scooters, canes and other mobility aid devices in entering and exiting motor vehicles". This standard defines how the wheelchair handicap lift is designed, built, and what requirements it must meet in operation. A FMVSS 403 compliant wheelchair handicap lift will have:
Retaining barriers
Threshold warning signal
Handrails
Interlocks to prevent accidental movement of a wheel chair handicap lift and the vehicle
Minimum platform dimensions and weight carrying capacity
Maximum size limits for platform protrusions and gaps between the platform and the vehicle floor or ground
FMVSS 404
FMVSS 404 is the standard that "establishes requirements for vehicles equipped with platform lifts". This standard requires that vehicles being built with wheelchair handicap lift, must utilize a FMVSS 403 compliant wheelchair handicap lift. Both standards have an effective date of July 1, 2005. FMVSS 404 is a bit strange in that it only applies to new untitled cars. The majority of platform wheelchair handicap lifts are installed in used titled vehicles. Which of course means that the installation does not need to comply with FMVSS 404. Confusing? A bit but since platform wheel chair handicap lift manufacturers have to make FMVSS 403 compliant wheelchair handicap lifts, practically speaking it doesn't much matter since FMVSS 403 has all of the real wheelchair handicap lift requirements anyhow. As the below explains, this was all done to allow current non compliant inventory to be legally used.
All of these requirements sound reasonable, right? I think most people new to the industry would say, "yes I want my wheelchair handicap lift to have those safety features." Implementing these requirements did not go smoothly and without opposition. Change is always difficult. The new interlocks did in some ways become one more thing to fail. Some interlock failures may cause the vehicle to not get out of park and thus become un-drivable. The rollout date for FMVSS 403/404 becoming mandatory kept getting pushed out to accommodate manufacturers and shops with older inventory stock. What were they going to do with all this old non compliant stock? The final requirements actually allowed an temporary "out" for the industry. It goes back to the two-prong requirements. First, an existing wheel chair handicap lift that a modifier had in stock was made prior to the new rule and did not have to be FMVSS 403 compliant. Second, the requirement to install a FMVSS 403 compliant wheelchair handicap lift was a separate standard that only applied to new vehicles manufactured with a wheelchair handicap lift. This almost never is the case. So this allowed the industry to legally continue to use non compliant wheelchair handicap lifts until all the old stock was depleted. As the manufacturers were forced to rebuild their inventories, the new wheel chair handicap lifts had to be FMVSS 403 compliant. Very clever piece of legislation actually. Eventually the difficulties of implementing new safety standards mostly passed. Manufacturers discontinued some products. Hard to say if prices went up although that was also a concern at the time. There was concern that people would install their own wheelchair handicap lifts or find shady non certified installers to save money. The manufacturers control of their dealerships (and who they sell their products to) and that was never allowed that to happen. But overall, most people just accept the changes now and don't give FMVSS 403/404 much thought.
Home | Wheelchair Safety | Riding in a Wheelchair | Driving Evaluator | Wheelchair Van - Full Size | Wheelchair Van - Minivan Conversions | Wheelchair Transport Options | Hand Controls | Vehicle Modifier | Definitions
Copyright © 2009 accessiblewheelchairvan.com. Terms of Use
I want to thank BlueRobot for being nice enough to publicly offer the CSS formats that I used in creating this website.