Home
|
Wheelchair Van - Minivan Conversions
|
Wheelchair Van - Full Size
|
Wheelchair Transport Options
|
Riding in a Wheelchair
|
Wheelchair Safety
|
Driving Evaluator
| Hand Controls |
Handicapped Lifts
|
Vehicle Modifier
|
High Tech Electronic Driving Controls
|
Secondary Controls
|
Elderly Driving
| Definitions |
Frequently Asked Questions
| Air bags
Other Vehicle Options for Transporting your Wheelchair or Scooter for the Physically Disabled, Paraplegics, and Quadriplegics
Custom Search
For some people, their disability is such that they can walk independently for short distances or can do so with the assistance or a caregiver. Others have the upper body strength to transfer into their vehicle's seat. For these consumers, a conversion full size van or conversion minivan may not be required. The issue that these consumers face is finding the right vehicle that allows them to safely enter the car and stow and transport their mobility device. Getting into and out of the car is not as much of an issue. When looking at a non conversion full size van or minivan, people especially with progressive conditions will need to take a hard look at whether they are purchasing a long term solution that can be modified as their disability progresses. Short term solutions will ultimately cost a consumer more in money, time, and convenience in the long run.
Lifts
Lifts come in a wide variety designed to work with specific types of wheelchairs or scooters. Some lifts only work with manual folding wheelchairs while others can only support lightweight power chairs or scooters. Lifts can be fully powered in all movement (up/down, rotation, in/out) directions or can come with powered lift (up/down) only and require the user to manually push the elevated mobility device into the vehicle. The selection of the right type of lift should be performed in consultation with your vehicle modifier who may require the assistance of an occupational therapist or certified driver rehabilitation specialist. Selecting the right lift is a very difficult process that has to account for your specific abilities, the nature and progression of your disability, your vehicle's ratings and limits, and any limitations caused by your specific mobility device. It is common for the client to have to change vehicles as their current one does not support the required lift. Then the task almost becomes even more difficult because this can open the door to a wide selection of vehicles with various pros/cons to consider.
Mid Section Cargo Area Lift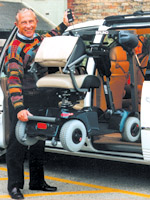 A lift that is designed to lift and store a scooter, manual wheelchair, or light power wheelchair into the driver or passenger (sliding) side door of minivans, as well as the passenger side door of full-size vans. In most cases you'll lose all mid row seating but in some instances only one seat is removed.
Hatchback Lift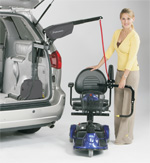 A lift that is designed to lift and store a scooter, manual wheelchair, or power wheelchair into the rear hatch area of a SUV, minivan, or full size van. You will lose all rear seating with this application.
Hitch Mounted Carrier/Platform Lift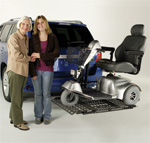 A lift that is installed on a vehicle (trailer) hitch receiver. A motor raises and lowers the frame onto which the wheelchair is driven and secured. Some lifts come with a "swing away" option that allows the lift to swing away providing access to the rear hatch area of your vehicle. The mobility device is secured to the platform with a manual tiedowns or various sorts. Some lifts and mobility devices support automatic tiedown systems. The biggest issue to watch for is the loads that a hitch mounted lift will put on your vehicle and how that compares to the vehicle's tongue load rating. Vehicles by and large are not designed with a hitch mounted lift application in mind and there is little technical advice offered by the car manufactures or mobility device industry. The hitch receivers are designed to attach a trailer to the vehicle. A trailer carries most of the trailer and trailer load on its own wheels though the vehicle has to break the combined vehicle and trailer load. When a vehicle is towing a trailer, a small (10%) portion of the total trailer weight is designed to be supported by the vehicle at the receiver hitch. This loading is called tongue loading. You can find your vehicle's tongue load rating in your car's owner's manual along with advice for towing a trailer, which although is not the same application, most of the guidance, ratings, and warnings will apply. The tongue load rating is determined by the vehicle manufacture and is based in large part on the rear tire and axle loading. Some cars are not designed to tow a trailer and you should not use these vehicles with a hitch mounted platform lift. Many cars can tow a trailer and therefore can support a hitch mounted platform lift. The question is, "how heavy can the hitch lift and mobility device be?" To answer that question, you'll need to consult with the equipment manufacturer and dealer. The combined weight of the hitch lift and mobility device should always be much less than the vehicle's tongue load rating. How much less is a complicated issue that we won't be able to explain. Just remember that the weight of the wheelchair is out further away from the vehicle than a typical trailer tongue loading. Most people understand from a playground seesaw that the farther out you apply a force, the greater its effect. The other issue is that as you apply load to a vehicle at a point behind its rear tires, some of the vehicle's weight transfer from the front tires and back onto the rear tires. Again think of the playground seesaw (Hopefully your front tires aren't really coming off the ground though!) with the rear tires acting as the pivot point. So carrying a hitch lift and mobility device has a compounding effect for the rear tire loading. Hitch mounted lifts have their place when reasonably used and are convenient for a lot of consumers who don't want to lose seating capacity.
Pickup Truck Bed Lift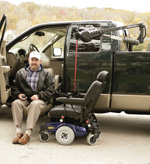 A lift that is designed to lift and store a scooter, manual wheelchair, or power wheelchair into the bed area of a truck. Depending on the model, these can be located near the rear or the side of the bed. The side installation is usually meant to be operated by a disabled driver, who transfers into the driver seat and is operating the lift to independently stow their mobility device. Securing the wheelchair as well as protecting it from the elements can be a problem in this application. An automated camper topper is available on the market.
Hybrid Lift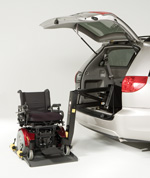 A lift that is similar in concept to a full size van platform lift except it is strictly for unoccupied vehicle stowage. The lift comes out of the vehicle and the tray is lowered to floor height. The mobility device is rolled onto the tray where it is secured. Can be located in either the mid section cargo area next to the sliding door of a minivan or full size van or the rear hatch area of a minivan, full size van or SUV.
Wheelchair Roof Carrier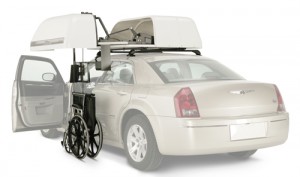 A lift that installs on the car's rooftop and is designed to lift and store a folding manual wheelchair. The carrier is available for either the driver or passenger side. It looks like a aerodynamically shaped rooftop luggage carrier. The device does not take up an interior seating capacity. The person must be able to transfer into the vehicle and fold and attach the manual wheelchair to the lift's hoist.
Trailer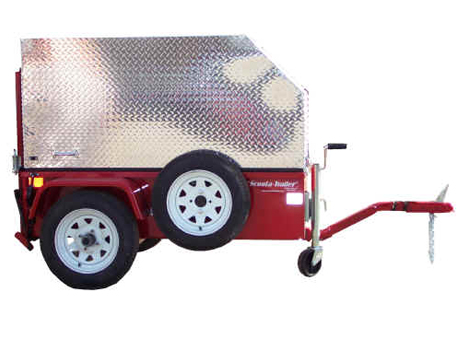 Vehicle tows a trailer that is used to house the mobility device. Benefits are that you don't lose any vehicle seating capacity, can transport power wheelchairs in sedans that can't support a hitch lift, mobility device can be covered with a trailer top. However, the trailer can be difficult to park, requires that the consumer can walk short distances and lift the trailer gate, and effects vehicle handling and drivability.
Home | Wheelchair Safety | Riding in a Wheelchair | Driving Evaluator | Wheelchair Van - Full Size | Wheelchair Van - Minivan Conversions | Wheelchair Transport Options | Hand Controls | Vehicle Modifier | Definitions
Copyright © 2009 accessiblewheelchairvan.com. Terms of Use
I want to thank BlueRobot for being nice enough to publicly offer the CSS formats that I used in creating this website.